Shanghai International Lighting & Sound Exhibition was held in Shanghai International Convention and Exhibition Center on October 11-14, 2017. Even with the sparse rain which can not resist the enthusiasm of the audience, it is learned that the entire exhibition attracted more than 600 exhibitors gathered in the exhibition. At Hall N2, Restmoment, a high-tech private enterprise, is attracting the attention of many viewers with a full line of digital conferencing products. As the organizer of the cooperative media, digital audio and video network reporter is honored to interview with Mr. Kong Jiefeng (General Manager of Restmoment Electron Co.,Ltd).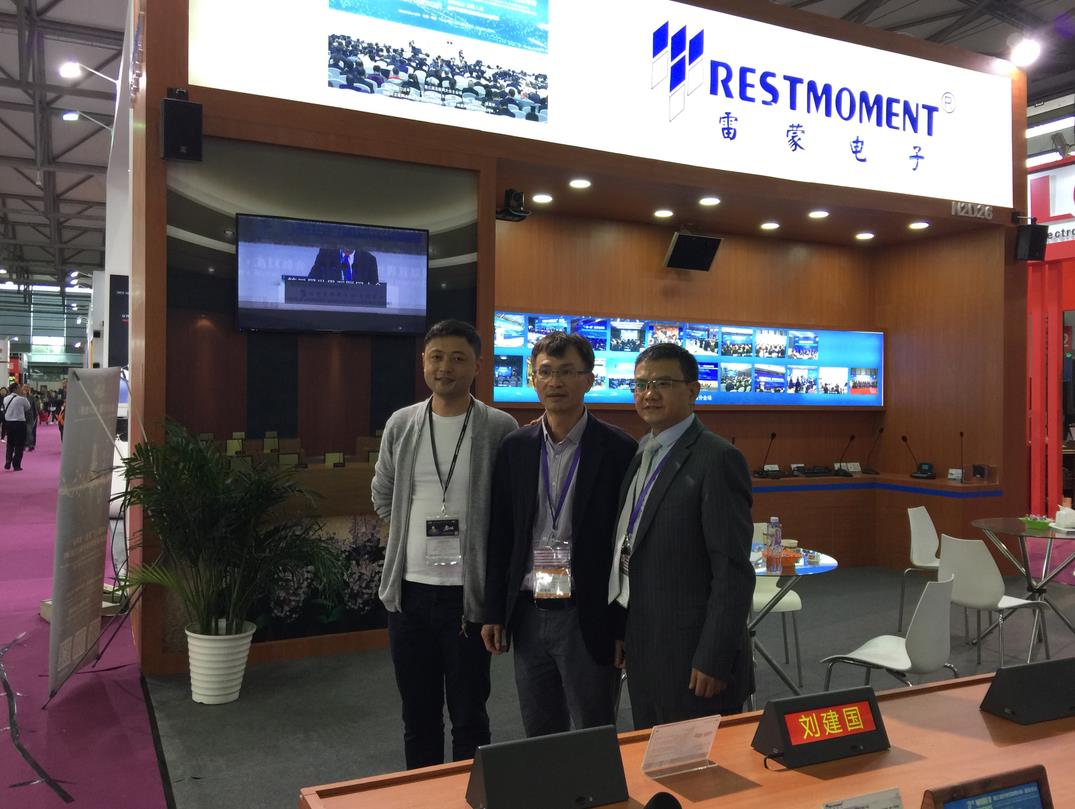 Mr. Kong Jiefeng (General Manager of Restmoment Electron Co.,Ltd) (Middle)
With more than 1,000 kinds of products, Zhuhai Restmoment has the most complete product line in the digital conference industry. The 5-inch touch-screen desktop speaking unit, multilingual translation console, infrared simultaneous interpretation system, electronic table display unit and many other new products. All carefully selected, and representatives Restmoment most forward-looking technology. According to Mr. Kong's introduction, multi-language translation console RX-E9208 is the technical explosion point products, using Restmoment all-digital conference technology, comply with IEC60914 international standards; support 48K audio sampling frequency, 64-channel frequency response are up 30Hz - 20KHz; 8 channel (including mother language) simultaneous interpretation and monitoring capabilities, with the channel selector or infrared language distribution system, can expand the audience to participate in the meeting.
As we know, Restmoment has made great achievements in the field of digital conference and is widely recognized in the market. However, audio products are not well known. When asked about the direction of audio development in the future, Mr. Kong always told reporters that Restmoment will develop in the direction of audio processors and hopes to make breakthroughs in technologies such as noise suppression and adaptive feedback cancellation. Make the product line more diversified, more flexible, to bring better products to users. Because it is necessary to ensure the sustained, steady and healthy development of Restmoment and to make appropriate adjustments to the market changes, it is necessary to profoundly establish the internal conditions and resources for analysis, make favorable strategic adjustments in time and establish the core competitiveness of enterprises. The next step to overcome the technical difficulties of audio, it is particularly crucial.
Enterprises seeking development, the entire industry is seeking "change" status. Audio and video industry has entered the fastest changing period. The development of Internet is also profoundly changing the development of audio and video industry. Mr. Kong always expressed his own opinions on the development trend of audio and video in the future. The future of audio and video industry, it will be interoperability. Mutual transfer of signals, different industries, different products in the future can share a protocol, a communication, all-round docking, interoperability. Audio and video in a system project's status is indissoluble. Audio and video, through the unified signal, protocol and other transmission paths, achieve the best combination. After the transmission being completed, the audio and video signals in the network signals are respectively sent to the corresponding interfaces to complete the audio and video transmission, ensuring the effects of low delay, high synchronization and fast switching. And it can be uniformly transmitted, processed and managed. The convergence of audio and video is becoming a trend and will be the mainstream of the future.
At the same time, we think audio and video convergence has become the trend of the times. If we want to maintain a steady, long-term travel on this road, enterprises, products, technology needs innovation, maintain their unique advantages. According to Mr Kong's introduction, Restmoment adhere to technology-led, developed a good product, good service industry applications. Restmoment has a full range of digital conferencing products, the annual push new products, and makes market differentiation research. Many conference products remain invincible, and has maintained the best-selling. The original all-digital conference technology, coupled with a sound service system, so that we have a good reputation for service.
In the area of digital conferencing, Restmoment has achieved industry-leading levels of technology, products, and solutions. The future, hopefully, we can be the perfect combination of audio products. To achieve perfect, we also need to talk about the hottest topic at the moment: digital audio technology will completely replace the traditional analog audio technology? In response to such a trend, Mr.Kong always gave a positive answer. In the audio and video industry, analog products dominated the market for a long time. In recent years, due to technological innovations and breakthroughs, the domestic digital products have been widely popularized. And the whole industry is bred with a new round of technology outbreaks. User experience, performance and applications are doing ongoing input and optimization. So digital audio technology will completely replace the traditional analog audio technology needs a cycle. This cycle can not be considered, it may be five years, may be longer, both audio and video technology is still a long way.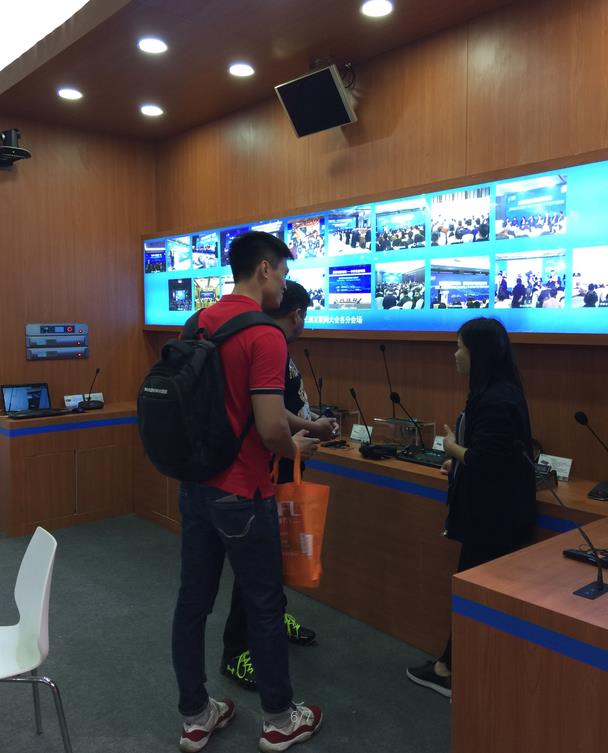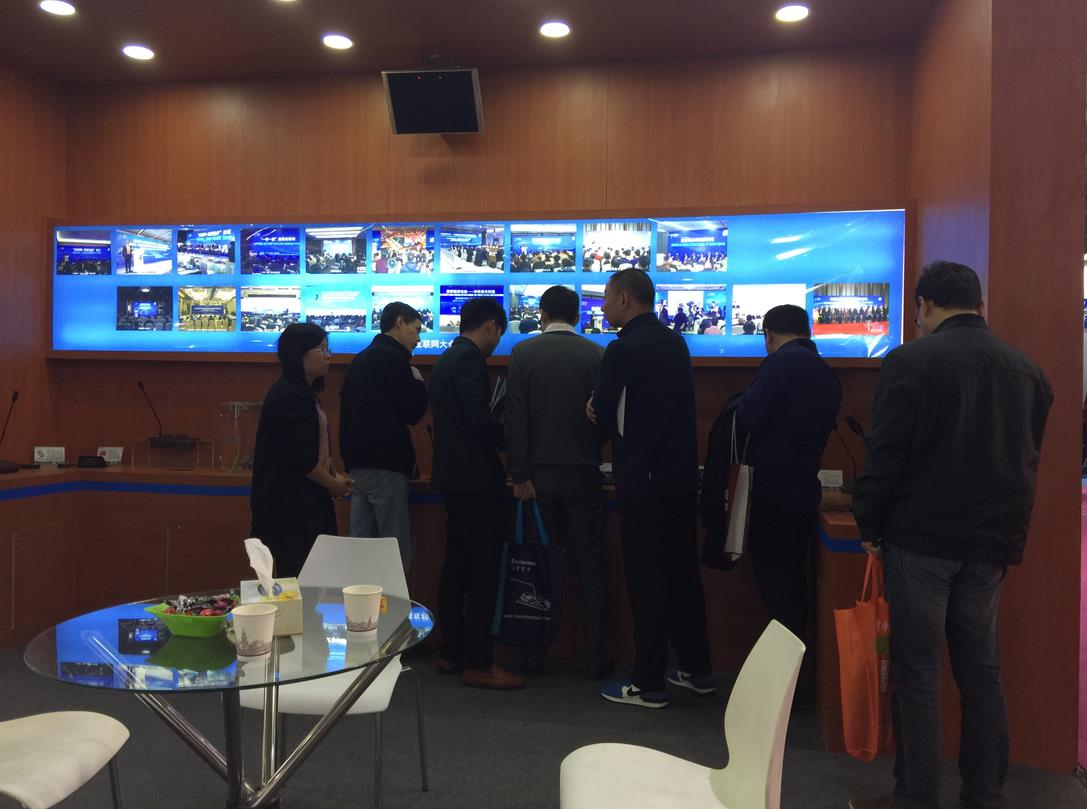 Finally, Shanghai Light & Sound Show comes to an end. But in the limited four days, Restmoment has built a strong friendship with its customers. We fed back the best Restmoment products to our customers.