Congratulations to Restmoment won the 2016 "Top Ten Broadcasting Conference (national) brand award"
December 8, 2016 audio lighting industry CEO Summit and brand awards ceremony held in Guangzhou Hotel Nikko was held. Business management business leaders, performing arts equipment industry associations, leading experts, business representatives, distribution / agents / contractors and the media more than 600 participants.

In recent years, the domestic professional lighting and sound industry increasingly competitive situation, product, technology, brand and marketing duel increasingly become the mainstream of the market. For the industry, the industry segments, the field more professional, channels, etc. is undergoing profound changes.

Since the start in July this year, the top ten brand selection after the network registration, Internet voting, top 30 brand local tour, online business real name voting, expert evaluation and other aspects of evaluation, the final selection of audio lighting industry ten leading brands. The use of a strong Internet transmission speed, for up to six months of propaganda campaign, 130 days of continuous coverage of propaganda, 485 times media, portal + industry media and efficient dissemination of media coverage throughout the entire event has always been to guide the industry focus on brand development, At the same time as an opportunity to enhance the community for the audio lighting industry, brand building concern.

Restmoment after a fierce competition with the major companies, and then through the most rigorous assessment link, and ultimately break out in the "2016 audio lighting industry CEO Summit and brand" awards ceremony, as one of the top ten brands in 2016 one of the top ten On the stage to receive the award, won the "Top Ten Broadcasting Conference (national) brand award."

Since the beginning of 2004, Restmoment as a senior enterprise won the first session of the top ten broadcast conference brand award, has been extended to 2016.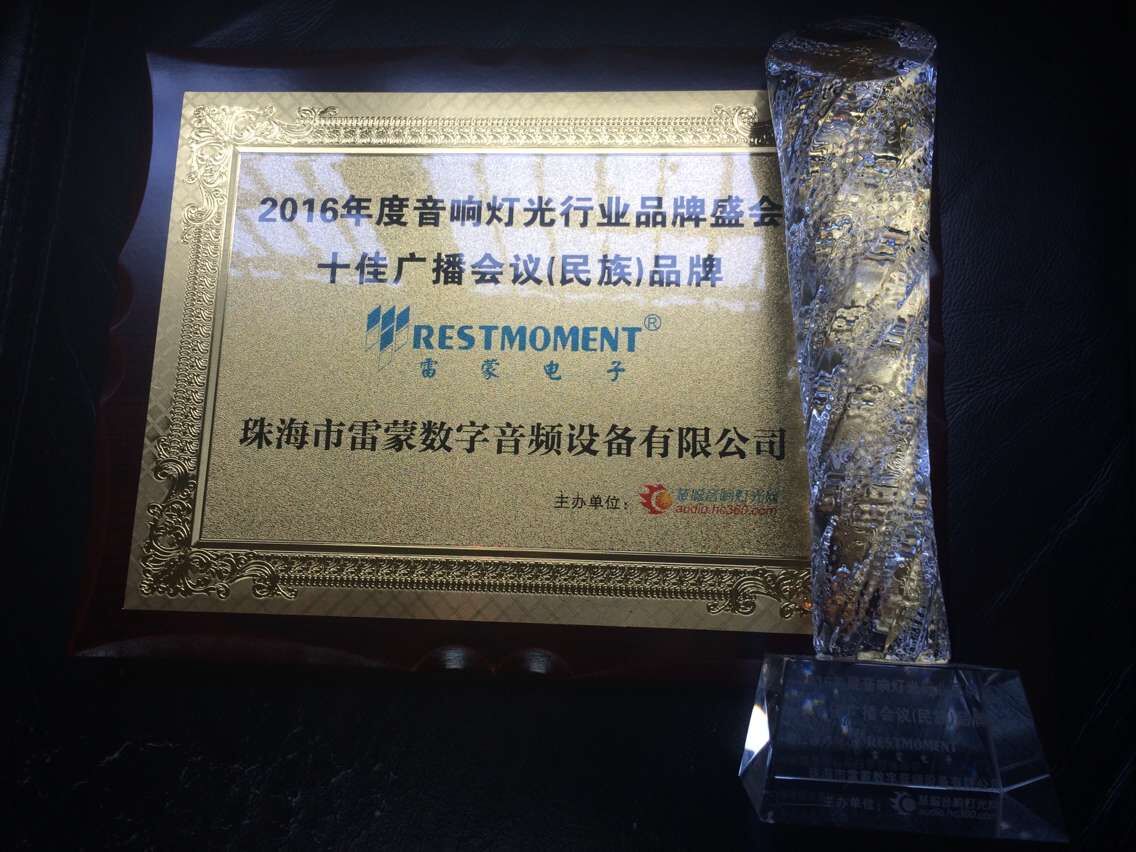 Restmoment as one of the earliest independent R & D conference system manufacturers in China for many years has been focused on the field of conference systems, with a number of large foreign companies to master the international cutting-edge digital conference core technology, conference system development and application, Has a profound understanding and understanding. Restmoment digital conference system with a revolutionary digital technology to replace the traditional model of the meeting, with its digital performance and easy to operate software control to meet all the modern management needs of the meeting. Invested heavily and manpower, and with a number of well-known international companies to fill the gaps in the international projects in China, truly created by China to China to create. The use of the Chinese Conference has a far-reaching and significant impact.

Twelve years even won the top 10 conference (national) brand award, is the strength of the Restmoment certification, but also to thank the rest of the community support and affirmation, Restmoment will be on the road in the future of continuous innovation and development, and bring We better service.